03 Jan

2020 in a review

As much as I like to look forward, I like to look back as well – generally only once (so, no dwelling in the past for me). I process what was going on for a given period of time, detached from emotions (as much as possible), based on facts and numbers. I like to do these kind of recaps once a year, but also after the completion of a larger project or even longer challenges. It's often surprising how much one achieved in. a given period of time or how much one developed artistically (even though at first glance it felt like complete stand still). 

While the popular "top 9" posts (one's nine most liked Instagram posts of the year) are fun, the likes normally don't give a good representation of the year, let alone quality of work or even what was important to the artist. And Instagram is not everything (says someone who mainly shows her work on Instagram…).

This (chronological) reflection and review helps me determine what I especially liked but also did not enjoy (which is also important to reflect upon), what resonated with you and what did not go as intended etc. A recap helps me to set the basis for future steps (what do I want to keep doing, what do I want to stop doing, what do I want to start doing – which is taken from a project management methodology that I use in my day job and can be super useful). 

This post is a more or less chronological "top 9" recap of my year (see the Instagram reference
) – in "milestones", work I really enjoyed and some things that did not work out the way I had intended.  
Here it comes – my (chronological) 3dottedpenguins 2020 recap in 9 little chapters:
The most frequent questions I received prior to 2020 (and I still receive) all revolve around the tools I use (which tools do you use, what is that pink stuff, what material do you use for carving, what ink do you use, how to attach the stamp to an acrylic block, where can I buy the tools,…). I am always happy to answer any of these questions because I know how hard it was for me to find infos on which tools to use. I wanted to collect all my answers in one place to be able to easily share them with you. That's how the idea for my first free mini-guide was born. 
So I started 2020 by compiling all the tools and resource I use as well as listing a number of art and craft supply stores (that ship regionally or worldwide) to answer all your most frequently asked questions in one place.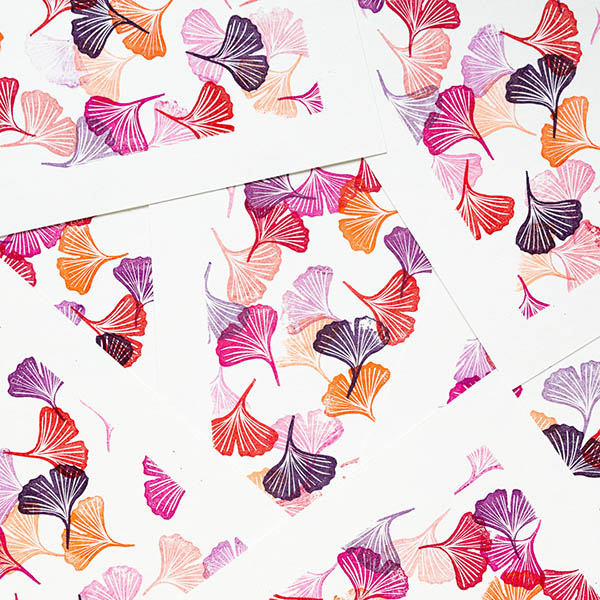 After a longer "internal" struggle I started making limited edition prints (all my prints prior to 2020 were open editions). To some this might feel like a minor step, for me at that time (beginning of the year) it was a fairly big achievement. 
I will share here why, even though (or perhaps just because) it feels funny to actually remember this struggle – a year later it feels like a minor thing, nothing to bother about but back then it really kept me thinking and unsure how to proceed: Due to the technique of block printing no two prints will be exactly the same. That's the beauty of block printing, you might say. And it is – I love these slight imperfections and variations but on the other hand I was always asking myself, how much variation "is allowed" from one print to the other (especially for a limited edition print, especially for a loose print like these ginkgo leaves). And somehow I felt like a limited edition print needed to be "more perfect" than my other block prints. Go figure. A year later I am luckily over it and can have a good laugh about it. 
One of my goals for 2020 was to start sharing my block printing passion and knowledge in (in person) workshops in Switzerland and surrounding countries. Soon the pandemic hit and all plans for in-person workshops were put to a screeching halt. But in the end something much greater came out of it, I started my live online workshops and – honestly – I was surprised how well they worked, from computer screen to computer screen, from home (studio) to home (studio). 
I thoroughly enjoyed sharing my knowledge on block printing in my intro to block printing and repeat pattern workshops (more to come soon) and meeting workshop participants from all over the world, from Australia to South Africa, from India to the US West Coast, from the middle east to all over Europe. I have always enjoyed meeting people from all around the world, traveling to and also living in different countries of this beautiful world. It was and is such a pleasure and gift to share my passion globally (and not only locally or regionally). Absolutely one of the good things that came out 2020.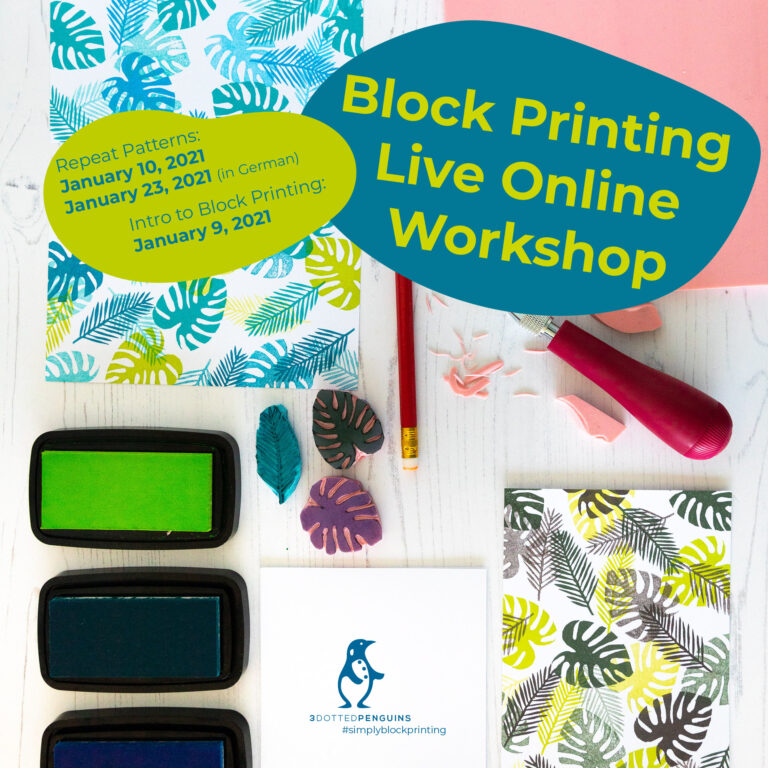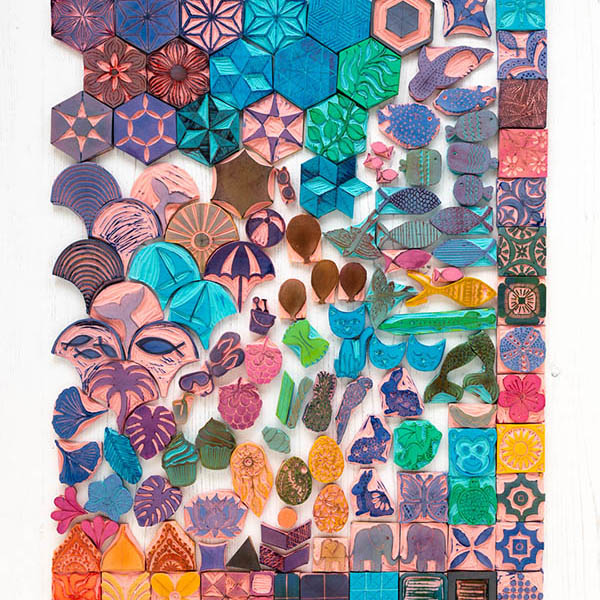 My battle with challenges
In 2018 to 2019 I creatively "fed off" challenges like #printinktober, #carvedecember, #patternjanuary, #printersolstice or #the100dayproject, growing a lot due to them (these were the times where I produced the best and probably the worst work of the respective years). In contrast, 2020 was not a year of challenges for me.
While I did not finish a single challenge I truly believe I would even have been less creative without even joining them. Thanks to the subtle "pressure" of the challenges there were stretches (weeks at a time) of bursts of creative energy followed by what felt complete creative standstill. I was grateful for and cherished every single day I was able to participate in challenges, even though I did not complete them. It's the process not the end result that counts – and I even made it through 50 of 100 days for the 100 days project, even though it took me 17 weeks instead of 7 to get to these 50 days.
#printersolstice 2020 printexchange
I am super honored that my print "print therapy" was selected for the #printersolstice 2020 printexchange. I printed an edition of 26 (which ironically was the largest limited edition I had ever printed to that date  – talk about "print therapy") – one for each of the participating artists and two that were auctioned off for charity.
PrinterSolstice was founded by printmakers Susana McDonnell of LinoCave and Mindy Schumacher of FollysomePrints and is running for the 3rd consecutive year in 2021 – from the (Northern) Winter Solstice to equinox, with 12 weekly prompts. If you are a printmaker you can still join the fun (be it for one prompt or for all 12).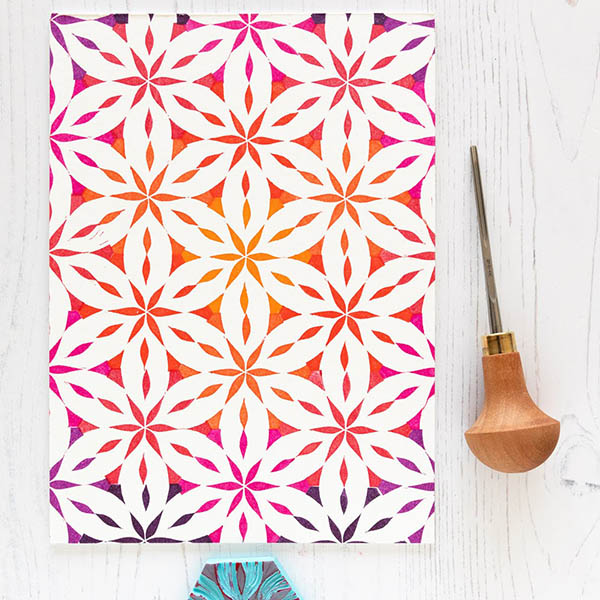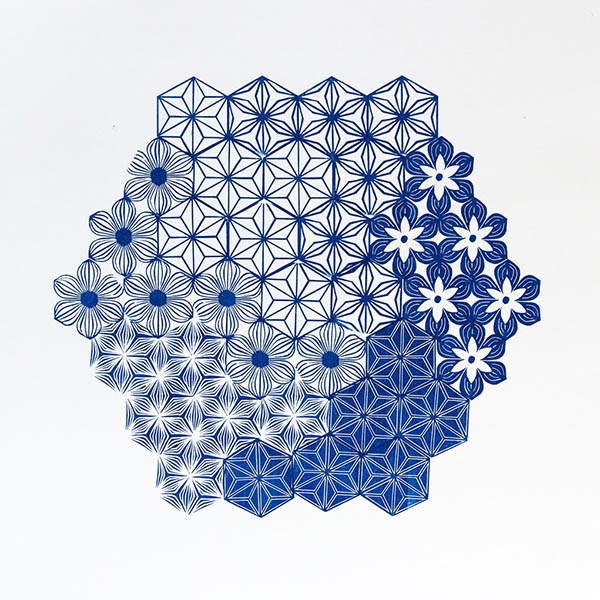 Going bigger (print wise)
In 2020 I made two of my biggest prints to date (both limited editions). The "Ode to Asanoha" is probably my favorite print of 2020 (pictured here). I printed it on gorgeous 40×40 cm (15.75×15.75″) paper and I am itching to even go larger in 2021. 
Wish me luck with going bigger as every stamp impression also means one more chance of making a mistake (bad alignment, smudging, using the wrong block,…). For example, one of my other large prints ("Seigaiha Beach") is composed by 21 hand-carved stamps. It takes over 70 individual stamp impressions to build up that entire print.
To watch some behind the scenes:
Get your own limited edition print delivered to your home:
1/many postcard charity project
I am a big believer in giving back and I also believe that it does not take much to get started. That's why I participate in John Pedder's 1/many charity initiative as often as I can also this past year. 
The concept behind 1/many postcards is simple: printmakers from around the world send out original postcards/mini prints for free. In return, the recipients will donate the amount the print is worth to them to a charity of their choice. This year I happily contributed to 3 instalments, both as a printmaker and as a recipient of other printmakers' amazing art work (and donating to charity in return).
Giving back is also something I want to incorporate more in this small 3dottedpenguins business of mine. I am currently figuring out which direction I want to go here and how to incorporate it. Stay tuned.
PS: a fun fact, these postcards here were the first ever (and so far only) Riso prints I ever made. If you now wonder what Riso printing is, I shared a bit about it in an Instagram post: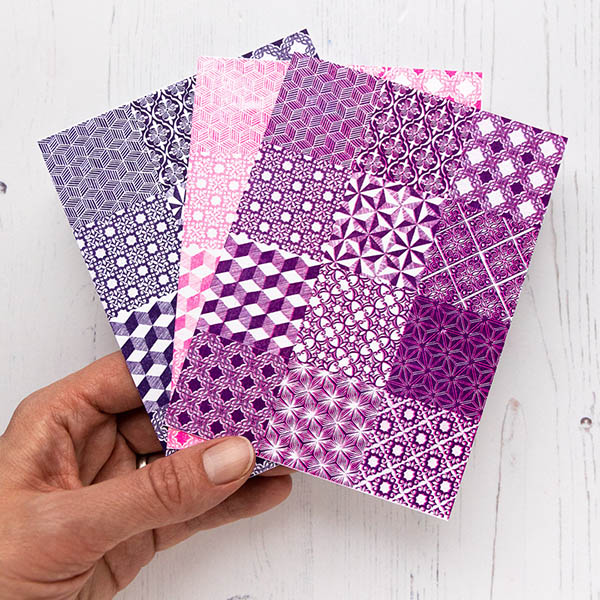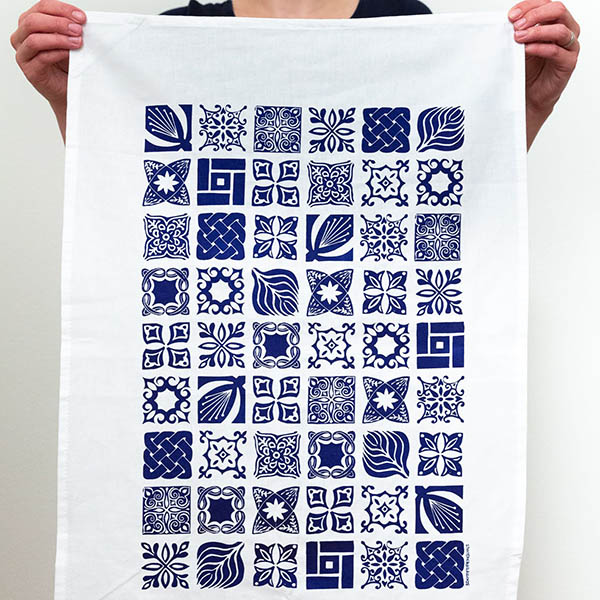 This year I continued to do screen printing on fabric (which was partially put to a halt because of pandemic lockdowns of the studio that I am using for screen printing). I love the process of translating some of my block printed designs into screen prints on textiles and during the year I added new hand screen printed products like small pouches as well as cotton gym bags to my product line up.
My last screen print design of the year also became your favorite (and best seller – thank you): the "Tiles" tea towel that I launched in October (as a pre-order at that time). The design originates from a selection of my square print block designs. It was fun (and a challenge at the same time) to go through my numerous square print block designs and chose the small selection that made it onto this tea towel.
Last but not least I am super honoured to be one of 10 guest teachers in Julie Balzer's online class "Carve December: 31 Tips, Tricks, and Ideas for Carving, Printing, and Designing Custom Stamps". 
Julie is the founder of the #carvedecember challenge and all guest teachers where former #carvedecember participants and the lessons are full of little tips and tricks on a variety of topics – also for me it's fun to learn new nuggets from other printmakers.
Fun fact: This was my first video lesson that I ever released (until now all videos that I had published were process videos – there was no audio involved, hardly any video editing, what a fun and at times frustrating learning process this was in 2020).