10 Apr

The 100 day project (2023 version)

This year (in 2023), I decided to join #the100dayproject again, with the same intention (as the previous 4 years) to complete it. Well, the odds are against me …

For those unfamiliar with the 100-day project: it's basically doing/creating/making something specific (whatever you choose) for 100 consecutive days. This could be 100 days of sketches, block prints, being mindful, taking a photo each day, and giving back to the community – there are no rules; you set your own rules. You can read more about what a creative challenge is and how it can help you reach your (creative) goals in this blog post. 
So, how did the last 4 years go?
2019 & 2020
In 2019, I completed the 100-day project (in 131 days). I would do weeks and weeks of creating at a time and then need to stop for a week or so in between because of my day job or family life taking over. I did not set any rules other than that I wanted to create block prints/patterns. The project was challenging for me but also rewarding – it helped me further define my style, "pushed" me to do creative work that I would never have otherwise tackled in the same timeframe, and it definitely pushed me to my limits. 
I approached 2020 in the same way as 2019 but went at a significantly slower pace for various reasons – I still was well on my way to creating 100 patterns (not on 100 consecutive days, though), but due to my slow progress, I stopped the project shortly after the 50-day mark (out of the blue). Instead, I  continued creating and making new patterns outside the 100-day project.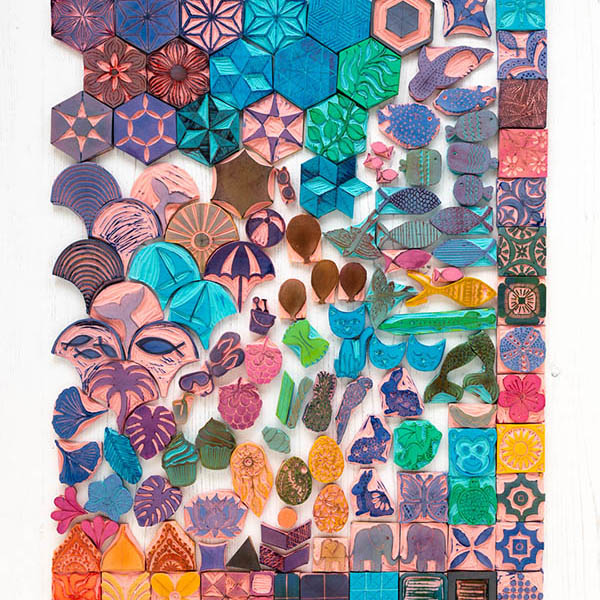 In 2019 & 2020, my goal was to create new patterns every day, either by carving a new block (and printing it) or by printing (or combing) "old" stamps in a way I had not printed them before. This meant a lot of newly carved stamps and quite a large (daily) time commitment (mostly in my evenings). In my first 100-day project, I made more than 130 newly carved printing blocks and about 320 prints. In 2020 I felt I did not have the capacity for that amount of new stamps and prints anymore (and hence stopped the project halfway through).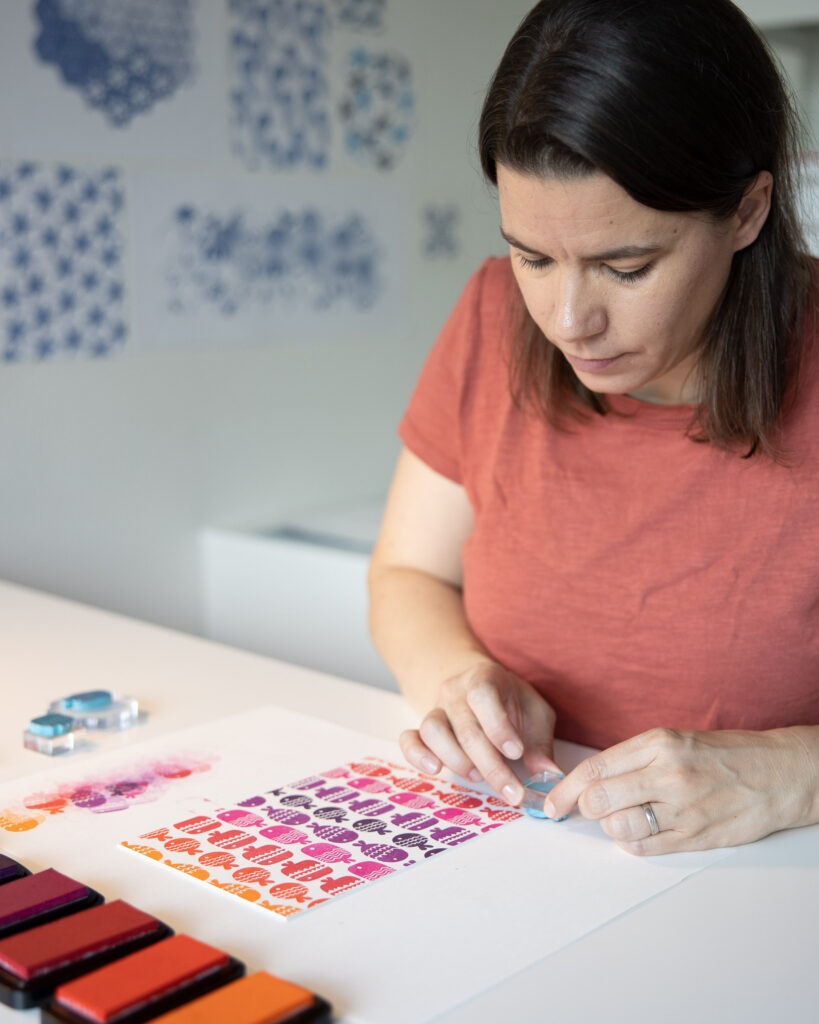 2021 & 2022
In 2021 & 2022 I took a different approach, a wanted to feel less rushed and have more time to create without the pressure to finish a pattern every day and give myself time for larger pieces. My goal was to get 100 days of creating into the year (which would mean creating something new at least every 3 days over the course of the entire year), but – even though I made a 100-day tracker to keep track, I lost count of the days I was creating… So, needless to say, I did not complete the 100-day project in either of the years.
I still believe that every day that I created because of the 100-day project was a great day – it pushed me in some way and made me create a pattern that I might not have created otherwise. These 4 years also taught me how I work best creatively (and that differs for everyone): I work best when working in long stretches at a time (daily) and then taking a break (a few days, a couple of weeks, …) when needed. 
So, what are the odds of finishing my 2023 project? Based on the above: not really good. But I REALLY want to complete the project this time. I reflected on the past 4 years and put down simple rules that I should be able to follow no matter how busy I am (and no matter if I have access to carving tools, a computer, or a sketch book)!
"How can I design my 2023 100-day project so that I can complete it in 2023 while still making it challenging and "successful" for me at the same time?" was the question I asked myself. After some back-and-forth (and even a first 100-day attempt in March which I abandoned after a few days), these are my rules for 2023:
Any creative work will count (sketches for patterns, experimentation of new work, newly carved stamps, new pattern prints, digital patterns, …)
Be creative for at least 15 minutes daily; this can be as "little" as 15 minutes of sketching out new ideas. 
The work does not need to be "finished" every day (no need for a new stamp or pattern print every day).
No need to show my progress every single day (on Instagram).
The goal is to do 100 consecutive days and not to miss any days in between (this should be possible thanks to the 15-minute rule). 
When it comes to staying accountable, there's nothing quite like saying it out loud or writing it down. That's why I'm putting my commitment to the #the100dayproject out there for all to see. I started on Monday, April 3, 2023, with Day 1. Here are Day 2 and Day 4 in prints. I should WILL reach Day 100 on Tuesday, July 11, 2023.
Of course, I'd love for you to follow along with me on this journey. You can find updates on Instagram and through my email list.
But I'm also curious about you! Are you doing your own 100-day project? Let's cheer each other on! Share your thoughts and links to your project in the comments below. Remember, accountability is the name of the game.
Get your printable copy of the 100-day project tracker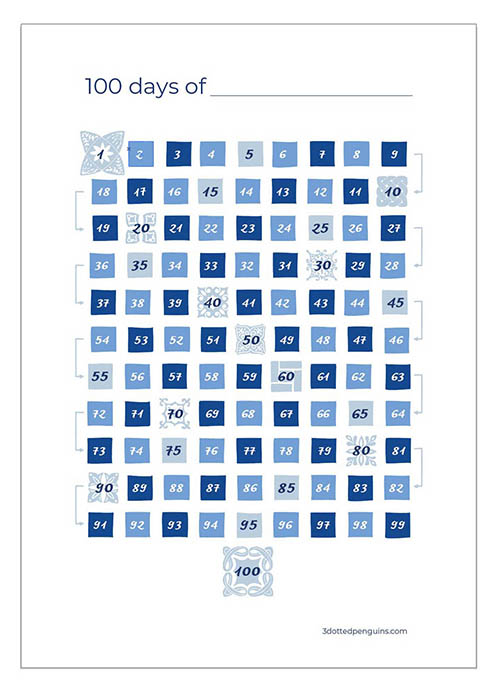 Have you ever embarked on a 100-day project only to lose track of your progress after a few days? It can be frustrating, right?
But don't worry! I have something to help you stay on top of your game. I created a nifty printable PDF that will help you keep track of each day and the progress you've made. 
Enter your email & get the pdf delivered to your inbox
We respect your privacy. By submitting your email address, you agree to receive emails from 3 Dotted Penguins with news, tips & resources, and special offers in the future. Unsubscribe at any time.
Personally, I've found it to be a lifesaver. It's so satisfying to check off each day and see how far I have come. Plus, it saves me from scouring through old Instagram posts or counting missed days. I even write the date underneath the boxes to keep track.
Trust me, this little tool will be your best friend throughout your 100-day journey. Give it a try, and let me know how it goes!