24 Aug

From Inspiration to Creation
TURNING YOUR INSPIRATION INTO YOUR CREATIVE VOICE
Finding inspiration is an integral part of the creative process, but how do we move away from the original "inspiration" and arrive at our own art, especially if we get inspired by someone else's work? This is a question I get asked a lot by my block printing students. And it's such an important question to ask – how can we approach our inspiration with integrity and stay true to ourselves? We are surrounded by inspiration, and there is nothing that has not been done before in one way or the other. So let's have a look at a few strategies:
1. DRAW YOUR INSPIRATION FROM DIVERSE SOURCES
Explore a wide range of sources to gather inspiration. Keep a sketchbook or an inspiration journal to document your ideas and sources of inspiration. The more sources you have and the more diverse they are, the less tempted you will be to simply replicate someone else's work.
2. UNCOVER THE ESSENCE OF INSPIRATION
When you find inspiring work, take a moment to ask yourself, "What is it about this artwork or design that fascinates me?" Is it the emotion it evokes, the technical complexity, or the creative vision? Is it the composition, one of the design elements, or the use of color? By identifying these aspects, you will not only know better what inspires you, but you can use this inspiration as a jumping-off point for your own creations.
3. INCORPORATE YOUR UNIQUE IDEAS
Instead of copying, use the elements that inspire you as a starting point to incorporate your own ideas and style. Let your creativity flow and add your personal touch to the inspiration you gather. Experiment with different techniques, mediums, and perspectives to infuse your work with originality.
4. GIVE CREDIT AND ACKNOWLEDGE THE INFLUENCE
If you are directly inspired by someone else's work, it's important to acknowledge and credit them. While learning from the masters and previous artists is valuable, be mindful of the line between inspiration and copying. Over centuries the old masters copied older masters to learn their techniques of how they created their masterpieces. Copying for learning can be fine – as long as you do this behind closed doors and never show it as your "own original" work, even with small changes. It is still someone else's work even when you drew, carved, or printed it based on their design. Go back to the question of what it is that fascinates you about that design. Composition, some design elements, the technical complexity, the use of color, light, texture, … ? Use the knowledge you gain to develop your own style, ensuring that your creations showcase your unique voice.
5. EMBRACE AUTHENTICITY AND DISCOVER YOUR CREATIVE VOICE
Discovering your creative voice is an exciting journey in the artistic world. It's a chance for personal growth in a world filled with diverse voices and influences. Your uniqueness and authenticity are what makes you stand out and push your creative journey forward.
To find your creative voice, take time to reflect on your own experiences and values. Trust your instincts, and try things outside your usual comfort zone. It might be easier said than done, but don't let yourself be influenced by what other people do and thus feel "forced" to go the same direction for the pure sake of "because they are doing it, I have to do it too". Go inward and create what truly inspires you. It does not need to be perfect – making mistakes is part of the learning process.
Remember, it takes time to find your creative voice. You typically don't find your creative voice overnight but through steady work, through creating regularly. The more you create, the clearer your unique style and perspective will become. Keep creating regularly to improve your skills and refine your voice. Enjoy every step of this journey, and be open to growing and evolving along the way.
Embrace your individuality, let your true self shine in your creations, and enjoy the satisfying journey of making art that's real, meaningful, and uniquely yours.
Finding inspiration is an ongoing process, so stay curious, explore, and experiment to see where your creativity takes you.
Let's have a look at a few examples of where the inspiration started for me and where the final design ended … 
FROM INSPIRATION TO FINAL DESIGN - LET'S HAVE A LOOK AT SOME EXAMPLES.
To give you an idea of how inspiration can lead to unique and original block prints, here are three examples from a trip to England and Wales.
EXAMPLE #1 – AN ICECREAM BAR WITH SPRINKLES
Inspiration can be super simple and literal, as in this example: the colorful sprinkles on little printmaker's ice cream inspired me to make a design of "chaotic dots". I challenged myself to make it a print made up of two blocks of overlapping circles to generate this dot pattern, printed in 4 layers of pinks and reds.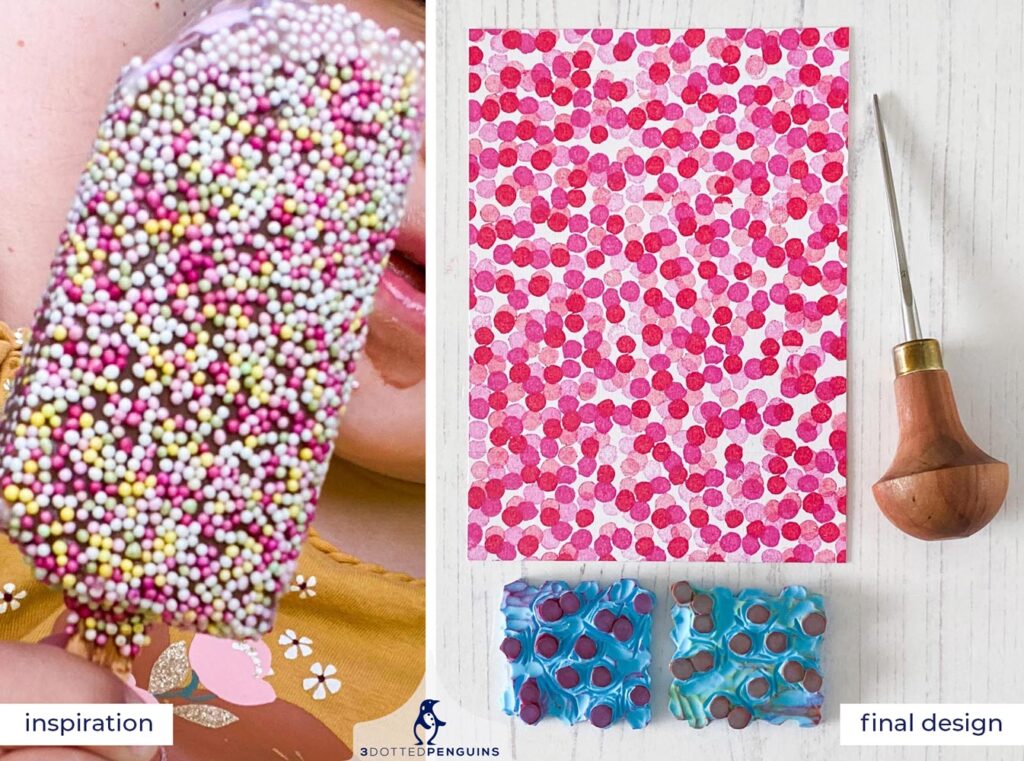 EXAMPLE #2: A PATCH OF GRASS COVERED IN PINK PETALS
Walking on a patch of grass covered in pink petals (fallen from the surrounding trees) inspired this geometric print of blossoms and leaves. The very clear and organized design (and clean print) was a contrast to the organic (and chaotic) layout of the petals on the ground.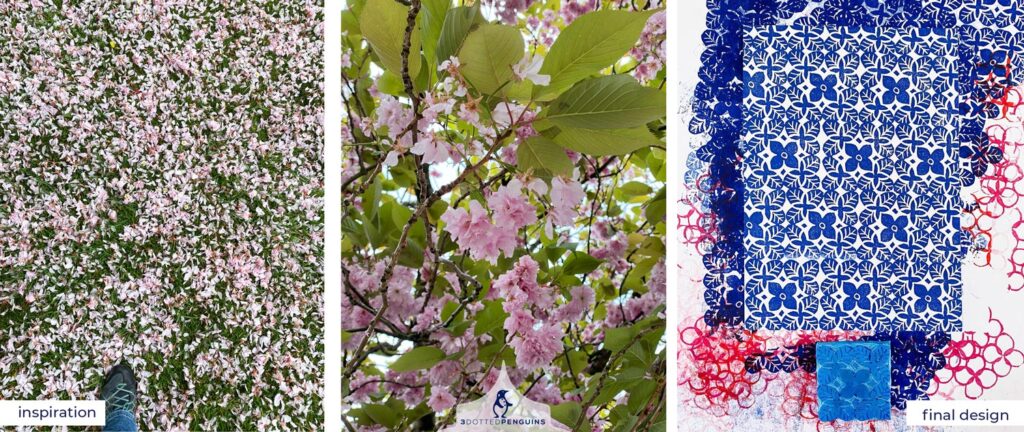 EXAMPLE #3 – A WOODEN DOOR
Walking along a harbor in Wales, I saw this stunning red door with the paint coming off. I loved the simple pattern created by the wood panels arranged at a 45-degree angle interacting with the horizontal lines next to the door hinges. The curved top of the door inspired me to play with a shell shape, and I knew immediately that I wanted to replicate the clear structure given by horizontal and vertical lines in the door and explore with lines at 45 and 90-degree angles.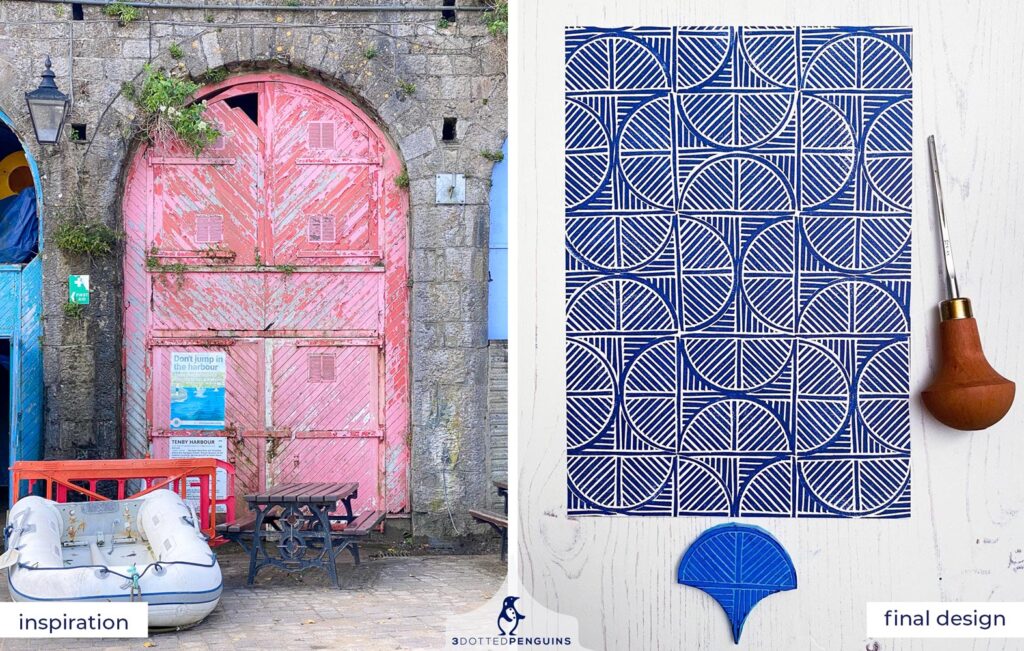 While I did bring some of my carving and block printing tools on that trip to England and Wales, I only carved and printed the second design while on the road. The other two designs came to live months later when I was going back to the inspiration that I had collected from that trip. 
WANT MORE IDEAS OF HOW TO KICK START YOUR INSPIRATION? ... here is your list to 10+ ways to kickstart your inspiration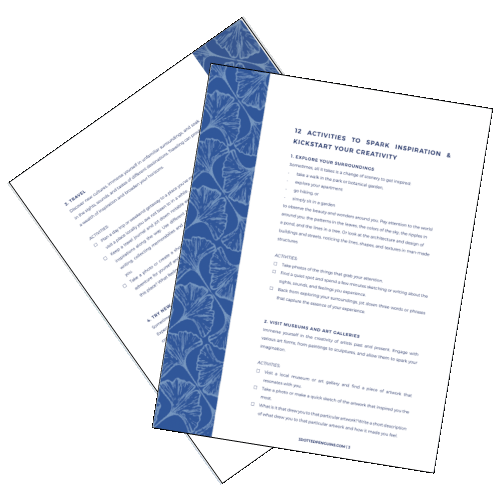 This free mini guide contains 12 areas to kickstart your inspiration with proven activities to help you seek your inspiration and – ultimately – kickstart your creativity. 
We respect your privacy. By submitting your email address you agree to receive emails from 3 Dotted Penguins with news, tips & resources, and special offers in the future. Unsubscribe at any time.
Finding inspiration for your block prints, or art in general, is a crucial part of the creative process. By exploring different sources of inspiration, staying curious, and experimenting with different materials and techniques, you can create block prints that are truly your own.
Remember, inspiration can come from anywhere and anything – from the natural world to your own personal experiences and emotions. By keeping an open mind and being mindful of ethical practices, you can find inspiration that speaks to you and create block prints that are both beautiful and original.
So go out there, explore, and create. And above all, have fun with the process. Your possibilities are truly endless.
You might also like these posts