31 Jul

5 easy steps to regain your Instagram feed

Instagram has made significant changes to its user experience in the past few months (and also rolled back/reduced some of them due to major public pushback).  

If you are on Instagram, you might have noticed some changes to the app lately (which you might find as frustrating as I do). Seeing less of what the people we follow post and more random unrelated "suggestions" can make it hard to navigate the app as a user (disclaimer: if you are outside the US, you might only partially experience this). I made a few easy changes to my account settings and now have a much better experience.

Read on for five simple steps (and a couple of extra tips) to see more of what you would like on Instagram and less of what you don't want to see. In short, see your favorite Instagram accounts again, improve your Instagram experience, and don't miss out on your favorite creatives' content and news.

Disclaimer: some accounts outside of the US might not see all the changes to IG yet (such as the possibility to add favorites or see a chronological feed)

 
1. Add your favorite Instagram accounts to your personal "Favorites"
You can add up to 50 accounts to your personal Favorites list (you can always change this list). These accounts will be marked with a red star, and Instagram will show you more of their posts. 
To add an account to your Favorites:
Go to the account you want to add as a favorite and make sure you are following the account.
Click the "following" button and choose "Add to favorites."
Any post from that account (not the account itself, but the post) will have a red star next to the account name. You can add up to 50 accounts to your Favorites list. If you have reached the number and want to add another account, Instagram will tell you that you have reached the limit of 50, and you have to remove one account from the Favorites first. 
Alternatively – instead of going to the profile –  you can also add the account to your Favorites from a post by clicking the three dots on top of a post and selecting "Add to favorites."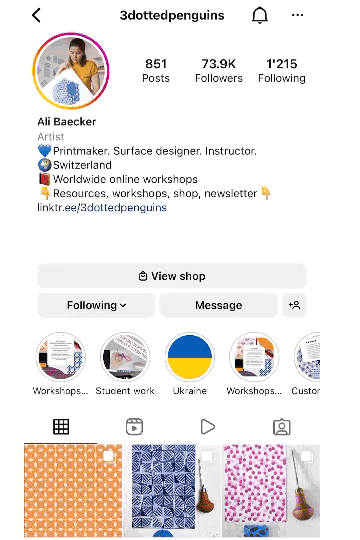 2. Make use of the "Following" And/or "Favorites" FeedS
In early 2022 Instagram significantly changed how you can experience what the people you follow post on Instagram. It also brought back the much requested "chronological feed." In addition, you can now choose between the "Home," "Following," and "Favorites" feeds (Note: this feature still does not seem to be rolled out to all Instagram accounts, especially outside the US, as of July 2022). 
The Home feed is the main feed that Instagram displays when you enter Instagram or tap on the "house" symbol. Instagram shows the posts in an order determined by their algorithm and also sprinkles in quite a few "suggested" posts of people you are not following (more on that in point 3).
In the Following feed is the new chronological feed. Instagram shows you all posts (for the last few days) of all accounts you follow in chronological order, starting with the most recent post.
The Favorites feed shows you the posts of your favorite accounts (your Top 50) – these are the accounts that you marked with the red star (see point 1). 
You can switch to the "Following" or "Favorites" feed by going to your home feed (house symbol at the bottom) and tapping the Instagram logo on the top of your feed. In the pop-up, you can choose between the Following and Favorites feeds.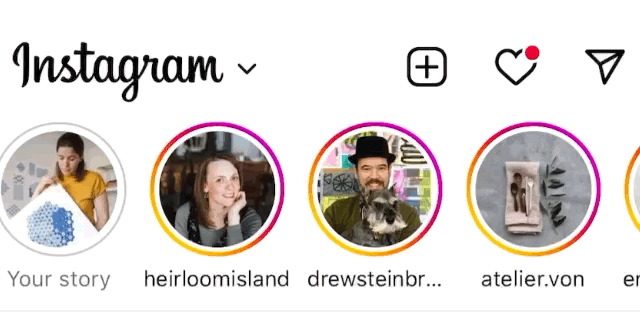 3. Snooze "Suggested Posts" for 30 days in your home feed. 
Instagram started showing "suggested posts" of accounts in your home feed that you are not following. Instagram's idea is that users should discover new-(and interesting)-to-them accounts to follow – unfortunately, for many, the suggested posts were/are totally unrelated suggestions (as of July 2022), and Instagram decided to reduce the number of suggested posts to improve the user experience again. But the suggested posts are not going away. They are still there and tend to clutter the home feed with reels about often unrelated topics. It gets hard to focus on the posts one actually wants to see.
The good thing is you can snooze "suggestions" for 30 days in your home feed. What a blessing; it will make it feel so much less cluttered. 
To snooze the suggested posts, click on the three dots on top of a suggested post and choose "Snooze all suggested posts in your feed".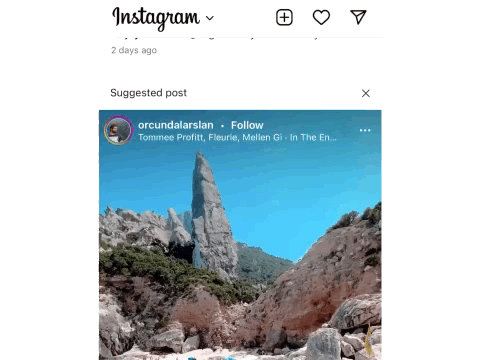 4. Get notified when an account makes a new post.
Getting notifications about new posts (i.e. pop-ups) is not a new feature, but it can be super helpful, especially if you want to see everything a certain account posts or if you don't want to miss the next few posts on e.g. a product or class launch to not miss out on limited availability. 
To activate notifications on new posts from a specific account you follow
Go to the account you would like and tap the bell on top (you must be following them).
Now you can choose which type of posts you want to be notified about (photo posts, stories, reels, …). You might only want to be notified about some of them.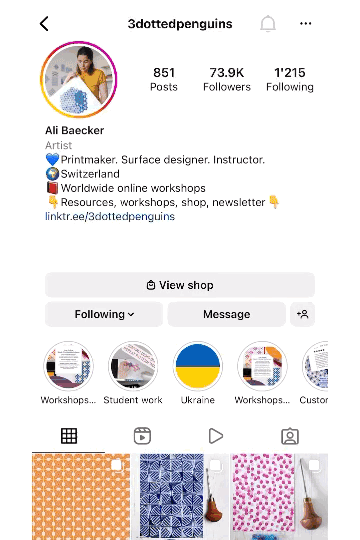 5. Tell Instagram to show you less of what you don't like.
Has your Explore page (the page you can access via the magnifying class on the bottom) become full of reels unrelated to any topics you are following? Make use of the "not interested" feature:
Click on the specific Explore post that you wish to see less off.
Locate and click on the three dots (they can be top or bottom of the post depending on the type of post).
Choose "not interested". You will be able to choose what you don't like about it. Instagram says that they will hide the post and show you less of that type of content.  
6. The extra tip: Sign up to your favorite creative's email list.
Ever missed your favorite creatives' announcement on Instagram on something important to you? Chances are that Instagram either decided to not display to you at all (for whatever reason), or you missed the announcement in the massive number of posts and a home feed that seems to animate us to scroll quicker and quicker.
If you don't want to miss out on the most important things your favorite creative is sharing, sign up for their email list. This is always the most reliable form of communication. You are not letting Instagram decide if you should see their post – you are letting your favorite creative decide if they have something important to share with you. You will get to read it right from the comfort of your email inbox.
If you are not on my email list yet, you can sign up here. You have the choice of receiving my emails in English or German.
7. BONUS Tip: Give them love
Tip number 7 (of 5 – sic) is all about showing some love to your favorite accounts by letting them know that you love what they are doing and support them at the same time: Comment, like, save their post or share them in your stories or direct messages with your friends. It's such an easy way to tell the creative that you like their work and support them without spending a single cent.
This actually has two bonuses: first, you are more likely to see new posts from your favorite creatives if you have recently (and repeatedly) interacted with them (as Instagram will see that the content is relevant for you) and, secondly, Instagram will learn that the post is liked by the viewers and show the post to more people (which in return gives the account more reach).